4. Development
Initial phase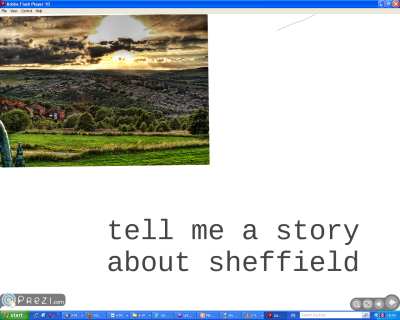 Storying Sheffield was developed and designed by Brendan Stone and Juliet Storey with guidance, support, and advice from several other people.
Some of Brendan Stone's prior experience in teaching and learning projects was relevant to the design of Storying Sheffield.  He had designed courses for the Schools of Sociology and Medicine in which trainee social workers and doctors engaged in joint research tasks with patients, carers, service users, and others, and then were tasked to use creative artistic means to disseminate their findings.  Narrative was a key theme in both these courses, as was artistic endeavour as a  mode of research, understanding, and enagagement.  Brendan's research interests include the study of narrative, agency, and empowerment. He also has a longstanding interest in widening participation and equality initiatives.
Juliet Storey is a Learning & Teaching Support Officer and she was instrumental in facilitating organisational issues.  These were critical to the success of the project.  Juliet also helped shape and advise on the structure of the course.
Participants
One of the first issues to be decided on was who the course should work with in its first iteration.  The course was designed to open up the University to groups and individuals who are less likely to enter HE.  Partly because Brendan Stone was at that time a Governor to the Sheffield Health and Social Care NHS Foundation Trust (SHSC) and has research and other interests in the field of mental health, it was decided that Storying Sheffield would work with long-term users of mental health services.  Brendan is himself a long-term mental health service-user.
Contact was made with key figures in SHSC, who then circulated information about the project to various services.  Visits were undertaken by Brendan and Juliet to local day centres, and meetings held with various teams.  At one of these meetings Brendan led a creative writing workshop for service-users.  It was emphasised throughout that the project was not focused on the experience of illness, although participants were free to talk about this if they chose to, and that it did not have any 'therapeutic' intentions.  Brendan Stone met and talked with a range of service-users and service-user groups. People who were interested in the course filled in an application form.
Preliminary workshops
There was a large and enthusiastic response to the project both from individuals and clinicians on behalf of clients.  Requests for involvment were received from a large number of people.  An initial meeting for people who were interested in participating was held in the Information Commons at the University.  Attendance was excellent, as was the response to the project.  Brendan and Juliet introduced the ideas behind the project; did some creative writing exercises; and took questions and answers.  A short tour of the University followed.  Facilitation of the event was helped by the involvment of several recent graduates from the School of English.
One of the strongest themes to emerge from this initial meeting was that potential participants did not want to wait until the official starting date for the course before beginning seminars.  It was therefore decided that two preparatory workshops would be held for non-undergraduate participants.
The preparatory workshops were very well-attended, and took place in CILASS collaboratories in the Information Commons.  Participants worked on a variety of collaborative writing exercises focused on their own life histories and experiences.  The full course was over-subscribed by around 300%, so places were allocated according to the order in which applications were received.
People
In planning the project, Brendan and Juliet drew on the experience of a number of other people including the community artist Ruth Ben-Tovim of Encounters and the Four Corners project.  Brendan met and talked on several occasions with Kathy Boxall of the University's School of Sociology.  Kathy had run a highly innovative project which had some similarities to Storying Sheffield.  Other people who advised or helped included: Claire Allam of LeTS; Chris Clow of CILASS; Dr Graham McElearney of CiCS; Prof Paul White; Prof Joan Beal; Prof John Barrett; Prof Dominic Shellard.  People from SHSC who helped the project include: Guy Hollingsworth, Sam Stoddart, Sarah O'Grady, Bev Nadin, Ian Cartwright.  Graduate facilitators at workshops included: Kate Marston; Jack Windle; Gavin Thomas; Dave Forrest.